There are many cities just as great as to study abroad in as London located throughout the UK. Here's a comparative guide to the wonderful city of London and the more understated northern gem, the city of Leeds.
City Size
London In terms of size, London is everything that people believe it to be. The metropolitan area has 13 million inhabitants and is the largest in the European Union. It has 43 universities, which forms the largest concentration of higher education academies in Europe. The urban area comprises the central City of London which is surrounded by 32 London boroughs, all of which are linked together with the oldest underground railway network in the world: The London Underground.
The core of London, which sports the city's attractions that everyone has heard of, is relatively small and easily explored through a combination of walking and a few short tube rides. Equally, each university has its own community of accommodation, campuses, and hotspots, which are easy to get around on foot or through short public transport rides while studying abroad in London.
Realistically, however, London is not made for people who want a small, local community feel. It's diverse, bright, exciting. and energising, but to really experience all of this amazing city while studying abroad, will require a bit of transport time.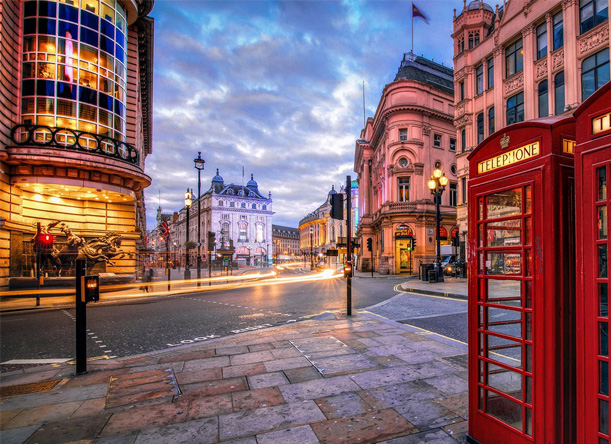 Leeds is like a bite size northern London. Located on the western portion of the country's largest county, Yorkshire, Leeds sits in the centre of the north, approximately a two and a half hour train ride away from the capital. It is the third largest city in the UK, has three universities and one of the largest student populations in the country.
Despite the big protestations, the City of Leeds District area is the main hub of excitement for students and is relatively easy to navigate. Buses are frequent from universities to accommodation spots and from the latter into the main town centre.
The town centre itself is traumatic for motorists but delightful for those on foot. Once a centralised market town in the Middle Ages, Leeds has reacted to rapid expansion with a complicated one-way system that is made up of street upon street of exciting finds for study abroad students wise enough not to get behind the wheel. Filled with museums, bars, restaurants, theatres, and shops, Leeds city centre is entertaining and close to the main Leeds district outskirts, which are also very lively in their own right.
Sights & Attractions
London is the world's most visited city in terms of international arrivals and is so for a reason: it has everything. The notable attractions in London are well-known around the world, and are not internationally renowned for nothing. Buckingham Palace, Big Ben, the Houses of Parliament, Westminster Abbey, the Tower of London, and St Paul's Cathedral may all be obvious, but they are worth a visit during any study abroad program in London.
London also has a multitude of museums for the inquisitive, a wealth of parks and open spaces for the relaxed, and 40 West End theatres for the drama-loving. Trafalgar Square, Covent Garden, and Piccadilly Circus are buzzing with atmosphere, Camden is a hub of alternative culture, and Soho is an entertainment hotspot.
The capital also has a number of exciting events throughout the year anyone studying in England shouldn't miss, including the infamous Oxford-Cambridge boat race in April, Pride London in June, the world-renowned Notting Hill Carnival in August, and the London Film Festival in October.
Leeds sports a plethora of exciting things to do and see while studying abroad. Restaurants are plentiful in the city centre and outskirt areas and the area has a local retail economy that refuses to stop growing. Leeds is considered as the principal regional shopping centre of the Yorkshire and the Humber region with a number of indoor shopping centres, the latest being Leeds Trinity, which boasts a host of stores, restaurants, bars, and a cinema. Leeds Trinity is very popular to say the least.
Until recently, the city didn't have its own arena, with nowhere in the local area for big acts to be staged. Fortunately, this was rectified by the opening of First Direct Arena in 2013, which has hosted performances from musical greats such as Pearl Jam, Dolly Parton, Prince and, arena opener, Bruce Springsteen.
Look out for some excellent local events throughout the year, including the three-day Leeds West Indian Carnival in August, which is the longest running West Indian Carnival in Europe, Leeds Festival (one half of the Leeds and reading Festival line-ups) also in August, and Leeds International Film Festival, the largest in the UK outside London, in November.
Nightlife
London has a vibrant club scene that puts the city on the map as the capital of cool. "Super-clubs" like the Ministry of Sound, Fabric, and Heaven are known as some of the biggest and best places to party with people all over the country flocking for a night out. London also sports a number of more intimate DJ bars for those who prefer a more familiar experience.
The O2 arena in Greenwich pulled a floundering Millennium Dome out of obscurity to become a multi-entertainment centre that constantly draws the biggest names including Tina Turner, Bon Jovi, Kanye West, and Kings of Leon too.
Leeds nightlife offers a unique collection of hip student hangouts, live music venues, "super-clubs," such as Club Mission and Mint club, an established gay area, and places that offer "real Yorkshire ale".
Millennium Square is an impressive venue for large outdoor events including the Christmas market, gigs and concerts, and, with a large outdoor screen mounted on the Civic Theatre, plays host to many people at big televised occasions.
The Little Things
London's Houses of Parliament are officially known as the Palace of Westminster and it is the largest palace in the country. It's also illegal to die in the Palace of Westminster.
Without Leeds there may have been no Lord of the Rings. Although famous fantasy writer J. R. R. Tolkien is widely associated with Oxford University, he actually spent the first five years of his twenties as a reader and professor at University of Leeds.
Final Ruling
Both of these two urban spaces offer fantastic, lively experiences of British city culture during any study abroad program in England. Both are well-located, have highly-respected academic institutions, and a variety of entertainment and excitement that cater to a wealth of different needs.
The only difference is size, really. Do you want to see a new area every time you take a trip in the capital? Or do you want excitement without having to travel too far to find it? Whatever it is you're looking for in a study abroad program in England, you'll definitely find it in one of these amazing cities.
Source: http://www.goabroad.com/articles/study-abroad/study-abroad-in-england-london-or-leeds