All of these are part of the fabric that makes up this unique country. Scotland lends itself to exploration in countless different ways, each an adventure of discovery rich in unforgettable experiences. You can tour the castles and fabled battlefields where clans fought fiercely, trace the footsteps of legendary kings and queens, or follow literary trails blazed by the likes of Robbie Burns and Sir Walter Scott. Another of Scotland's great attractions is its solitude, with its remote stretches of heather-covered moors, secluded beaches and wild, romantic mountains with their deep glens and lochs, all waiting to be explored.
Edinburgh Castle
Scotland's most famous fortress has dominated the city's skyline since the 13th Century and is the most popular national monument in the country. Perched atop black basalt rock, Edinburgh's spectacular castle affords magnificent views of city landmarks including the Royal Mile, Princes Street and the Palace of Holyroodhouse. Entrance to the castle is via a drawbridge over an old moat from the broad Esplanade where the famous Edinburgh Military Tattoo is held every August. On the way, you'll pass bronze statues of legendary heroes William Wallace and Robert the Bruce, both of whom fought and defeated the English./span>
The Royal and Ancient Golf Club of St Andrews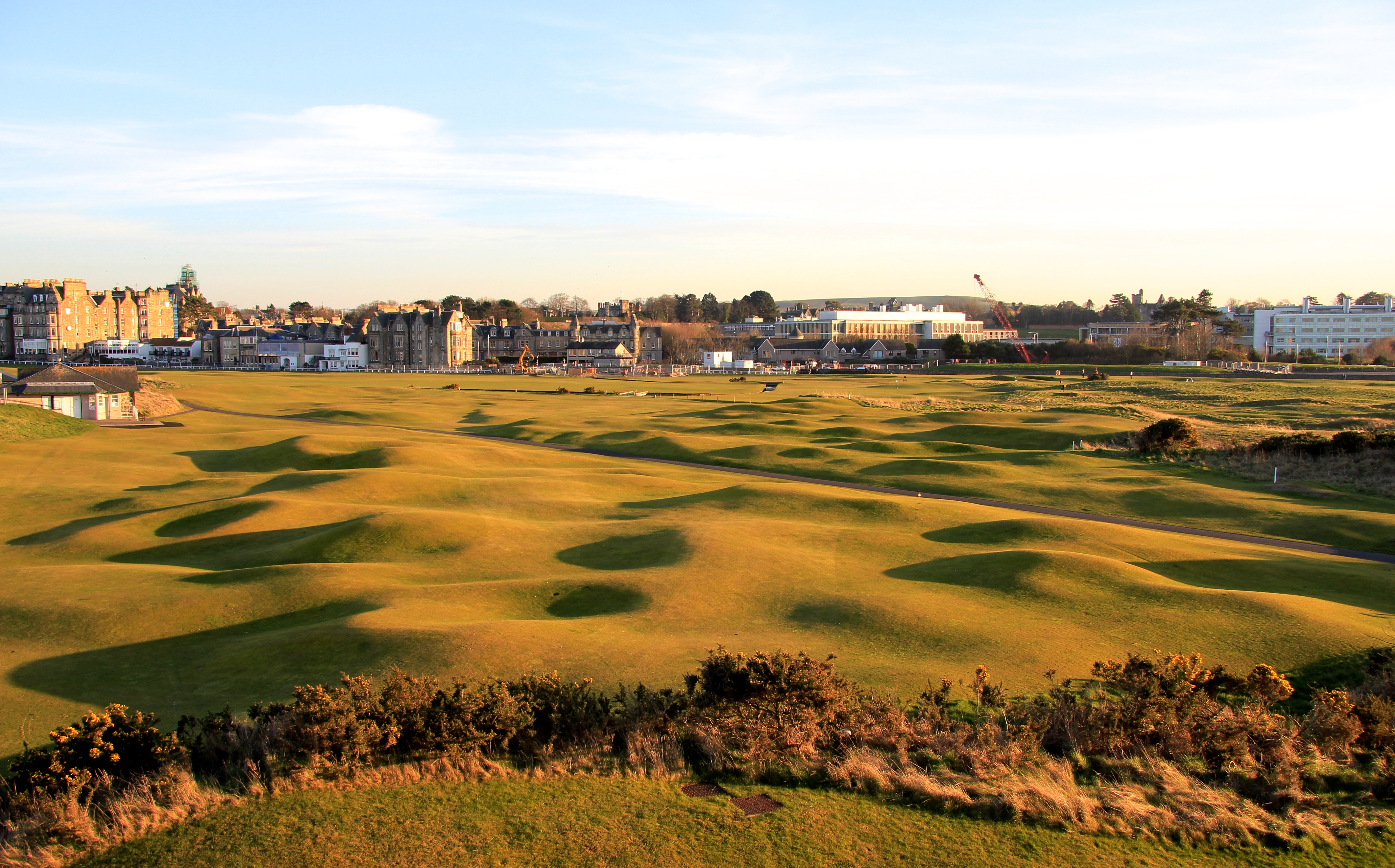 The Scots lay claim to many inventions, including the bicycle, postage stamps, telephones and steam engines. But perhaps their most enduring invention is the great game of golf. One of the country's biggest tourist draws is the much revered Royal and Ancient Golf Club located in historic St Andrews and just 12 miles southeast of Dundee. Founded in 1750 and recognized internationally as golf's ruling body, St Andrews regularly hosts the famous British Open at one of its many 18-hole courses, the most famous of which is the par 72 Old Course running alongside the rugged coast. Worth visiting are the majestic old Clubhouse and the British Golf Museum which documents the history of the "home of golf" from the Middle Ages to the present day.
Loch Lomond
Idyllic Loch Lomond, just a short drive northwest of Glasgow, is Britain's largest lake and, according to author Walter Scott, is "The Queen of Scottish Lakes". With plentiful trout, salmon and whitefish as a lure for anglers, this beautiful corner of Scotland is also hugely popular amongst day-trippers, watersports enthusiasts, hikers and those simply drawn by the wonderful scenery. Boat trips are always popular, as are longer treks up majestic Ben Lomond (3,192 ft) with its spectacular views. Loch Lomond is a great first stop when touring along the Western Highland Way from Glasgow through the beautiful Argyll countryside to Fort William. Cameron House at the south end of the loch is an excellent place to savor the romance of a Scottish castle, breathe in the lakeside air and enjoy a wide range of outdoor activities.
Isle of Arran (Editors Pick)
It's for good reason that the lovely Isle of Arran is known as "Scotland in Miniature". Only 166 square miles in size, Arran is a mirror image of the landscape found on the mainland. Like mainland Scotland, it boasts majestic mountains, moorland, sandy beaches, wildlife, castles, fishing harbors, great golf, and plenty of friendly people. It's also easy to get to from Glasgow, less than an hour's ferry ride away, and buses run regularly around the island. Although its highlights - including Brodick Castle and Goat Fell Mountain (2,866 ft) - can be visited in a day (including the ferry ride), try to allow at least a few days to explore this wonderful wee corner of Scotland.
Stirling
Ideally situated between Edinburgh and Glasgow, Stirling is famous for the Battle of Bannockburn which saw Robert the Bruce defeat the English invaders in 1314, as well as the Battle of Stirling Bridge, a victory for Scottish independence secured by the legendary William Wallace. The splendid Bannockburn Heritage Centre offers excellent displays and exhibits regarding this important era. Between Stirling and Bridge of Allan stands the majestic Wallace Monument, a spectacular 246-step tower with incredible views of the area, as well as artifacts said to have belonged to the great Wallace himself. Finally, there's spectacular Stirling Castle built atop a 250 ft high volcanic crag. Dating back to the 12th Century, the castle played an important role in Scotland's rich history and serves as a great place from which to explore the area.
Loch Ness
Think of Loch Ness and you'll probably picture the mythical monster that, according to legend, has made this amazing loch home for countless centuries. Nowhere does a better job of fuelling the legend than the Loch Ness Exhibition at Drumnadrochit Hotel with its exhibits of the famous "beastie" and the surrounding area. Then, of course, there's the much-photographed Urquhart Castle standing on a strip of land jutting into the loch. The center of many ancient myths, the 12th Century castle fell victim to a fire some 500 years later. Despite its condition (perhaps even because of it), the castle and Loch Ness remain some of the most visited of Scotland's numerous attractions, and are easily accessible from Inverness.
Isle of Skye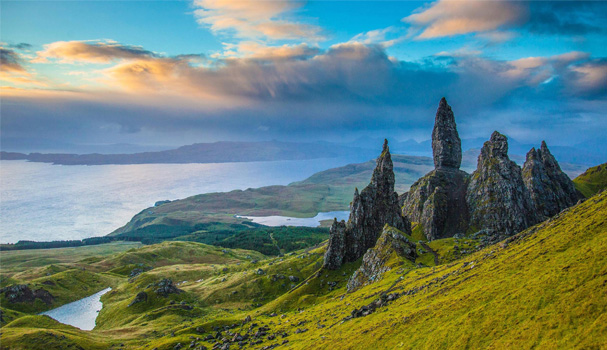 The largest of Scotland's inner isles, Skye - known to the Vikings as "Sküyo", or "Cloud Island" due to its heavy mists - is hugely popular amongst nature lovers. Its wild, romantic mountain scenery and green valleys, caves and attractive glens, magnificent waterfalls and sandy beaches - all crammed into an island just 50 miles long and between four and 15 miles in width - make it extremely appealing. In addition to its deep inlets and quaint villages, the island is home to the remains of primeval oak forests, as well as an abundance of wildlife including otters, seals, and some 200 species of birds. Getting to Skye is easy, as it's connected to the mainland via a bridge, although ferries are still a fun alternative to driving.
The Northern Highlands
Encompassing a broad swath of Scotland stretching from Inverness all the way north to Thurso, Scotland's spectacular Northern Highlands is separated from the rest of the country by the "Great Glen", Glen More. This ancient fault line was used to create the remarkable Caledonian Canal extending from the west coast to the east, from Loch Linnhe to the Moray Firth. While much of this mountainous region is uninhabited - and therefore excellent for hiking and biking adventures - it does boast many lovely small towns and villages. One of the pretties is the tiny coastal town of Dornoch, noted for its cathedral and castle ruins. At the top end is John o'Groats overlooking the Pentland Firth with what's probably the most photographed signpost anywhere.
Robbie Burns Country: The Burns Heritage Trail
No visit to Scotland is complete without visiting at least one or two sites associated with the country's most famous son, poet Robbie Burns. A great way to experience a little of Burns' life and times - as well as seeing some of the most beautiful parts of the country - is along the Burns Heritage Trail. Start at the Robert Burns Birthplace Museum in Alloway, on the outskirts of Ayr, where you'll find the perfectly preserved thatched house where the poet was born and spent much of his childhood. After visiting other Burn's related landmarks - including a monument and gardens created to commemorate his life and time in Ayr, a collection of his most important writing, and the 16th-century Auld Kirk where his father is buried - this circular tour heads south to Dumfries where you'll find the excellent Robert Burns House where the celebrated poet spent the last four years of his life (he died here in 1796, aged just 36). Now a museum displaying Burns-related memorabilia, this attraction portrays a vivid portrait of his life, and his final resting place is just a short distance away in St. Michael's Churchyard.
Scotland's Castle Trail
Much of Scotland's spectacular Castle Trail focuses on Aberdeenshire, home to 17 of the country's best preserved and most dramatic castle sites. Using the city of Aberdeen as your base, your itinerary (available for download from the Visit Scotland website) can, if castles are your thing, be stretched over four days, or crammed into one. In addition to seeing such lovely old fortresses as the fairy-tale looking Crathes Castle and 13th-century Drum Castle, you'll be rewarded by a chance to explore the slightly more recent 15th-century Craigievar Castle with its delightful towers, gables, round oriel windows, quaint conical roofs, and ornamental stone cannons. The Castle Tour is also an excellent way to take in the Grampian Region's majestic mountains and dramatic coastlines.
Source: http://www.planetware.com/tourist-attractions/scotland-sco.htm