San Fran is in many ways the antithesis of the Cali stereotype, which is all the more reasons to love its grittiness, hilliness, fogginess and general awesomeness. As liberal as it comes, the city is a hub for hipsters, hippies, punks and creatives alike. The street art will enamour you, the food will make you drool and the nightlife will keep you up dancing all night long. What's not to love? For first time visitors, check out these 12 things you must do San Francisco without doing.
Take a sunset cruise along the harbour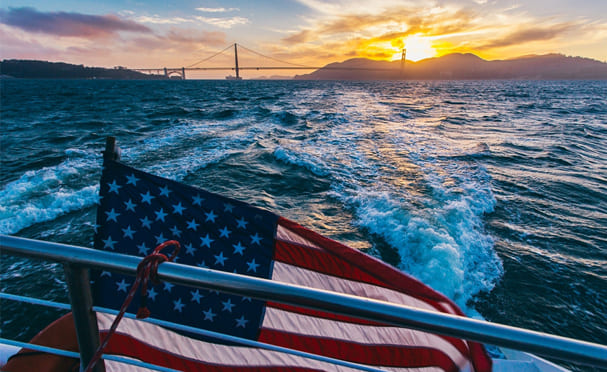 There is nothing quite like cruising under arguable the world's most famous bridge as the sun streams and puts the 'golden' in Golden Gate. Seeing this city from the water is just something you've got to do! Make sure you rug up- even in summer, San Francisco can get unbelievably cold, especially when you are out on the water.
Eat brunch at SF institution, Mamma's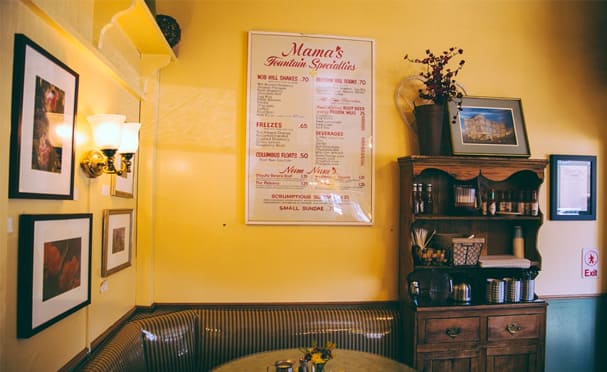 You can't leave San Francisco without having a really good brunch. Expect to cue up for about an hour to get in to Mamma's, one of San Fran's oldest, most famous brunch spots. Yes, it's a long wait. But once you've had a bite of your eggs benedict and wash it down with swig of freshly squeezed orange juice, you'll realize what all the fuss is about.
Take photos of the Golden Gate from the other side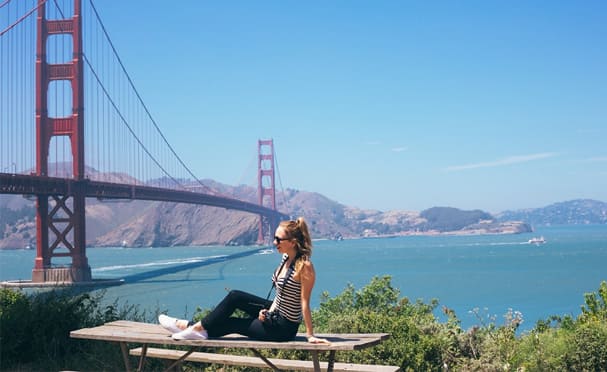 When arriving in San Francisco, everyone seems to flock to the far side of the Golden Gate to get their token bridge shot. If you want to avoid competing with the hordes of tourists and tour buses, hop on a public bus to the end of Marine Drive. Once you get off the bus, head down the path towards the water and you'll see a few picnic benches and the ultimate view of the Golden Gate, minus the tourists.
Indulge in dessert at Ghirradeli square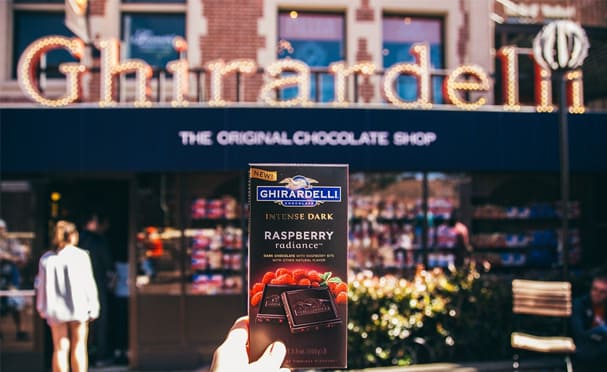 Maybe skip lunch, because you won't leave San Fran's famous Ghirradeli Square hungry. If you haven't got enough of a sugar rush from the free samples of delicious chocolate, head to the café and order an indulgent ice-cream sundae or a salted caramel hot chocolate.
Ride a cable car from the outside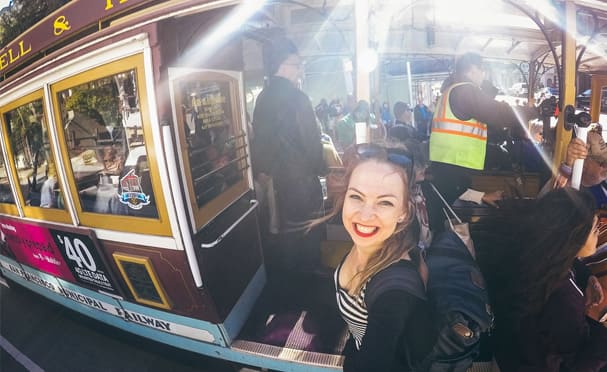 You didn't really think you were going to leave San Fran without riding in a cable car did you? Is it touristy? Yes. Is it overpriced? Yes. Is it really fun? Heck yeah! If you are going to join the tourists on the Powell & Hyde Cable Car, make sure you get a spot on the outside. Hang on for your life and enjoy that wind blowing through your hair as you brave the slopes of San Francisco!
Get lost in Chinatown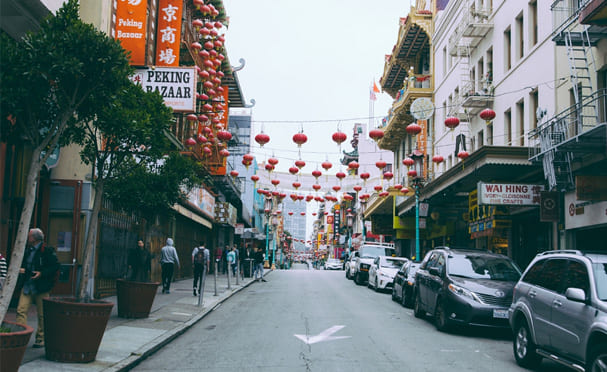 The largest Chinatown outside of Asia, it's no wonder this is one of the most visited attractions in San Fran. Get lost in a maze of culture, history, delicious food and amazing street art- it's an absolute must do!
Watch a baseball match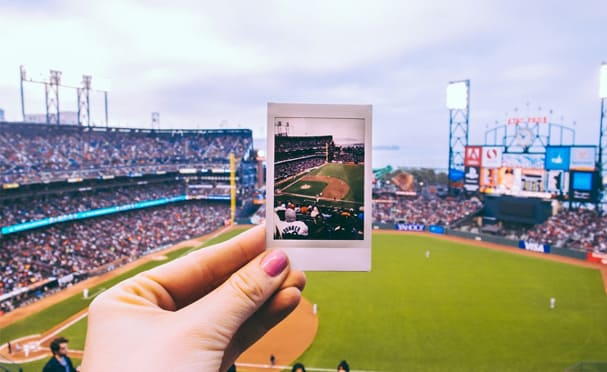 There is nothing like standing in a crowd, beer and hotdog in hand, pretending you know what is going on at an American baseball match. Head to San Fran's AT&T stadium for the true 'Merican experience.
Eat Mexican in the Mission District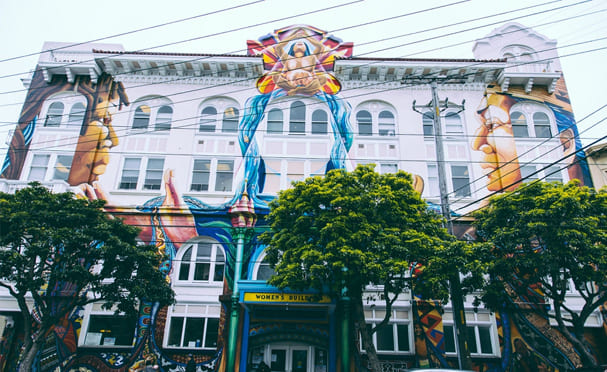 It may have started off as the slightly grittier side of town, but nowadays the Mission District is seriously the place to be. This area defines the meaning of gentrification, and over the past few years has become extremely popular with the hipster crowd. It's easy to see why- the place is flooded with street art, boutique vintage stores, lively bars and unbeatable mexican cuisine. Don't miss out on trying a Taco from La Taqueria.
Drive down the windy road of Lombard Street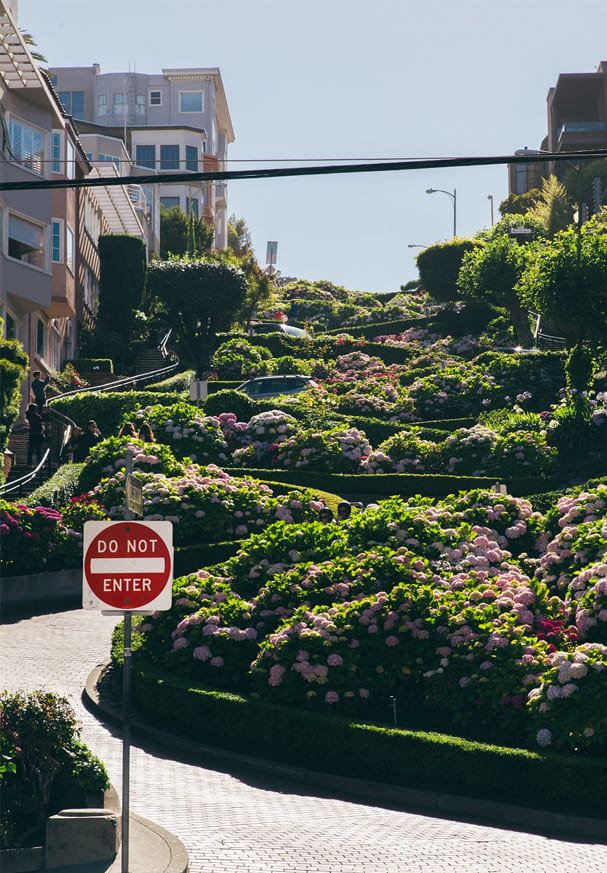 Tick it off the bucket list- drive down the windiest street imaginable, with eight hairpin turns to compete with. If you don't have a car to drive or if you are feeling a little nervous about braving this road, hop in a taxi and ask them to take you for an extra special spin.
Try the clam chowder at Boudins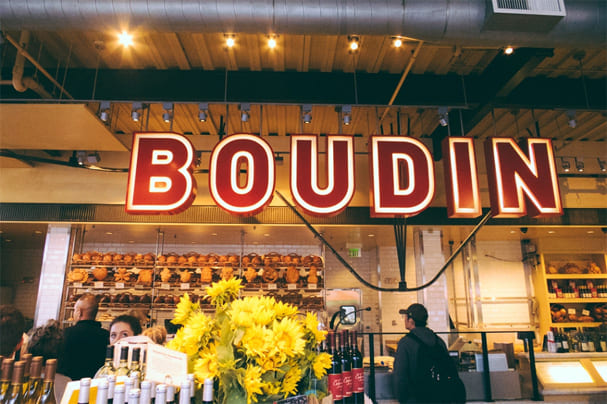 It would be wrong to leave San Fran without trying its signature dish- Clam Chowder served in a sourdough bread bowl from legendary bakery Boudins. Let this delicious, steaming soup warm your soul as you sit at Fisherman's Wharf and watch the world go by.
Take a boat to Alcatraz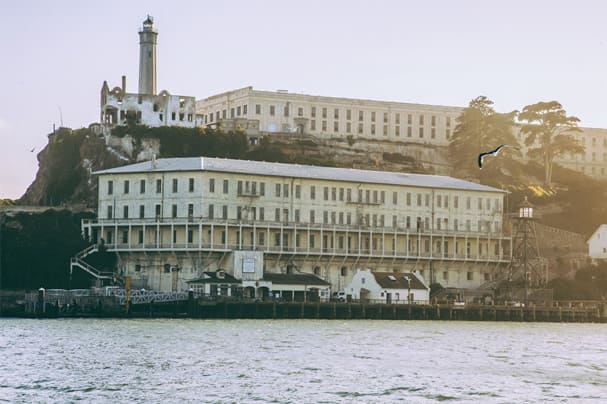 A key highlight of city for many, a trip to San Fran isn't quite complete without taking a boat ride to Alcatraz Island to see firsthand the infamous high-security prison. Make sure you book up as far in advance as possible as tours sell out very quickly!
Hang out with the sea lions at Pier 39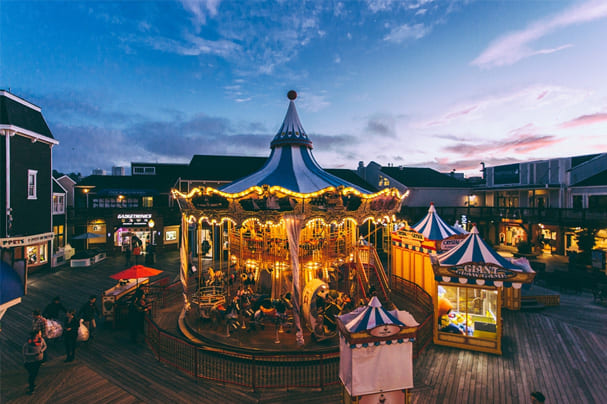 It may be another one of the most touristy part of town, but it's a little hard to resist a visit to Pier 39. Take a stroll along the boardwalk, have a drink at one of the many bars lining the pier or release you inner-child and take a ride on the enchanting carousel. Then brace yourself for what you really come for- the hilarious, smelly sea lions. With the amount of noise they make, it's impossible to miss them.
Fuente: https://goo.gl/iOvDc4