Dismaland, street artist Banksy's most recent and most elaborate endeavor, contains everything you'd expect to find at an ordinary theme park - a ferris wheel, fair games, rides, and colorful attractions - and yet manages to circumvent any and all semblances of happiness.
Banksy's theme park opened Saturday, August 22 at a seaside swimming resort in Weston-super-Mare, England. Guests start their Dismaland experience by walking through a security room designed by artist Bill Barminski. Featuring stark white walls and furniture outlined in thick black lines, the space simultaneously conjures images of hospitals and cartoon sets. Once inside the park, apocalyptic attractions—such as a dilapidated castle—and dark art abound.
Banksy is best known for his street art, and his work at Dismaland explores the same themes he's been working through in urban settings: war, revolution, political corruption, and economic inequality. In Dismaland, though, Banksy collaborated with other artists. The park's three galleries feature work from 58 artists, representing 17 different cultures. Banksy himself unveiled 10 new pieces.
In spite—or perhaps because—of the park's macabre appearance, Dismaland has been making waves worldwide. People can't seem to get enough of Dismaland's provocative art, anarchist bookstore and Mickey Mouse-eared attendants who are told to respond to all questions with a sullen response. Indeed, the park's online ticketing system crashed within the first few days of operation, and a week's worth of tickets—sold at $5 a pop—were sold within a single hour.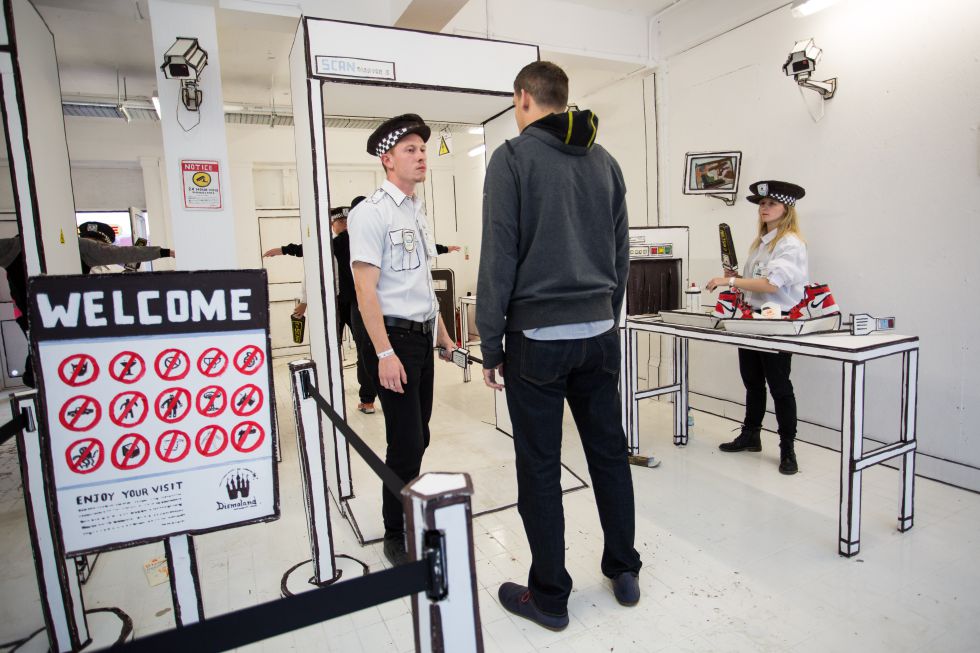 According to Banksy, the theme park is a "festival of art, amusements and entry-level anarchism."
Source:http://all-that-is-interesting.com/dismaland